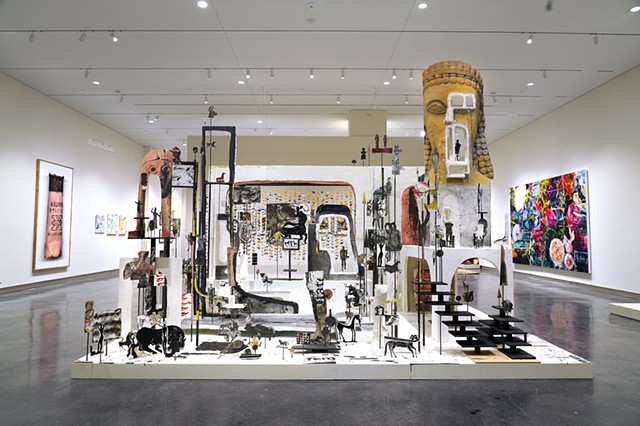 Over the past twenty years, my creative research has focused on the language of museums. This language includes how culturally significant objects get displayed and what socio- and psycho-cultural constructions are embedded in those displays. Born to a family of artists and jewelry merchants in New York City, as a child, I was surrounded by the hegemony of art exhibitions at institutions such as the Metropolitan Museum of Art and MoMA, along with the city's Diamond District, where my family had their 45th street store.
My multi-disciplinary art practice reconsiders the distortions, corruption, and fantasies found in the system of display that impacted my youth. I make artwork that critiques these narratives and challenges other ways that art and culture are historicized.
Most often, the result of my research takes the form of large-scale installations that mimic the museological displays that I investigate. Original objects such as pottery and sculpture are replaced with drawn or sculpted representations that are easily manipulated, moved, or replaced. Finally, they are messy, layered, expressive, and stripped of the sleekness that typifies institutional presentations. My display does not promote the type of fixed historical narrative but one of uncertainty, self-reflection, and change.
I often directly embed these re-envisioned displays into museums, steps away from the artwork I reference. These pieces are never considered complete. They are exhibited multiple times in different institutions, continually exposing their evolution as elements are added or mutated and as parts are exchanged, sold, or eliminated. These shifting arrangements attempt to weave time and place while disrupting standard curatorial strategies such as chronological order or geographic specificity. I break down taxonomies and hierarchies by exchanging "high" and "low" art materials and intermingling human achievements with natural ones.
For example, my recent installation, Gallery of Thieves, models a museum's antiquity collection as the work goes through a process of synthesis with the rest of history. The work's individual elements start as Greek or Roman observations (charcoal drawings) and then go through a series of layering, chopping, and merging with non-Western, near Eastern, prehistoric, or contemporary representations. In this iteration, I continued to alter the artwork during the course of the exhibition that took place at the Asheville Art Museum. The museum's audience was able to watch as I transformed the work, in a performative fashion, in multiple sessions during regular open hours. During each session, Greek and Roman elements were literally torn from the display and replaced with a new set of images. These images depicted objects from people who lived in the Indus Valley, Mesopotamia, and the broader Levant and whose ideas or material processes shaped the cultural landscape of the ancient world.
BIO/ Andrew Scott Ross received his BFA from the Atlanta College of Art and his MFA at the School of the Art Institute of Chicago. He subsequently studied at the Skowhegan School of Painting and Sculpture. Ross has exhibited throughout the United States and abroad including; The Museum of Arts and Design in New York, The Building for Contemporary Art in Geneva, Switzerland, The Museum of Contemporary Art of Georgia, The Guggenheim Museum's Peter Lewis Theater, The Ben Gurion Airport in Tel Aviv, Israel, The Knoxville Museum of Art, The Hunter Museum of American Art, The Weatherspoon Museum and the John Michael Kohler Arts Center. His work has been reviewed in publications such as Artforum Magazine, Art in America, The New York Times, The New Yorker, Sculpture Magazine, and Artsy. In 2016, Ross's installation Dry Erase was presented at the Atlanta Contemporary Art Center for the Atlanta Biennial. He was included in the exhibition Appalachia Now! An Interdisciplinary Survey of Contemporary Art at the Asheville Art Museum (image above) and selected as the 2019 Tennessee Fellow from South Arts. Opening in December, 2021, Ross will present a new version of his Century Zoo installation at the two-person exhibit Symptoms of the Future: ANCIENT WORLDS at OUT OF SIGHT gallery in Antwerp, Belgium. A concurrent event with his video work Curatorial Drift will take place at The Royal Academy of Belgium.